5 Amazing Things About The Girl Who Drank The Moon
12:43 PM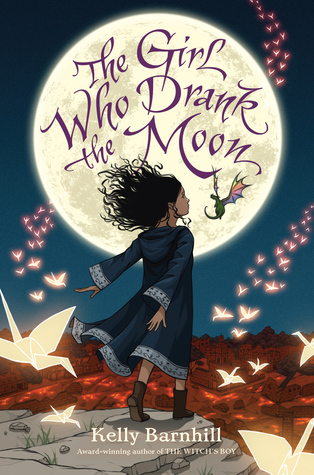 The Girl Who Drank the Moon
by Kelly Barnhill
E-book edition, 368 pages
Published August 9th, 2016 by Algonquin Young Readers
✰✰✰.5
Every year, the people of the Protectorate leave a baby as an offering to the witch who lives in the forest. They hope this sacrifice will keep her from terrorizing their town. But the witch in the Forest, Xan, is kind. She shares her home with a wise Swamp Monster and a Perfectly Tiny Dragon. Xan rescues the children and delivers them to welcoming families on the other side of the forest, nourishing the babies with starlight on the journey.
One year, Xan accidentally feeds a baby moonlight instead of starlight, filling the ordinary child with extraordinary magic. Xan decides she must raise this girl, whom she calls Luna, as her own. As Luna's thirteenth birthday approaches, her magic begins to emerge--with dangerous consequences. Meanwhile, a young man from the Protectorate is determined to free his people by killing the witch. Deadly birds with uncertain intentions flock nearby. A volcano, quiet for centuries, rumbles just beneath the earth's surface. And the woman with the Tiger's heart is on the prowl . . .
The author of the highly acclaimed, award-winning novel
The Witch's Boy
has written an epic coming-of-age fairy tale destined to be a modern classic.
I received a copy of this book from the publisher via NetGalley in exchange for an honest review. This does not affect my opinion of the book or the content of my review.
Adorable cast of characters
If there's one word to describe the characters in this book, it would be ADORABLE. Our old, loving, kind Xan, Perfectly Tiny but have enormous heart Fyrian, poetic and caring Glerk, and last but not least, our vivacious and curious Luna. I love all of them, individually and together, to pieces.
Strong bond between the characters
You know what I love better than family aspects? Family that consist of people who has no blood relation or whatsoever. The familial bond between the cast really reminds me of
THE GRAVEYARD BOOK
by Neil Gaiman. The characters aren't bound by blood (a dragon, a swamp monster, a witch, and an enmagicked kid), but the love and loyalties they have for each other really shines through the pages.
Gorgeous Writing
"Each secret, each unspoken thing was round and hard and heavy and cold, like a stone hung around the necks of both grandmother and girl. Their backs bent under the weight of secrets. "
The writing in this book is really fairytale-esque. It's just really gorgeous and feel magical, without using difficult words or purple prose. I really like it, even though it feels a bit repetitive to explain some feelings over and over again.
Dragons
This book only has 2 dragons, to be exact, and they're both really different. One is Simply Tiny, and the other one is Simply Enormous. But they're both have Enormous Heart, and Fyrian is just really adorable. Imagine him as Mushu, with a personality like the Genie.
Set in some fairytale-esque place
This book doesn't have a really large set, they basically only going around in the circles, but the imagery is really vivid and rich. Also, it feels like somewhere a Disney movie could use.
My only complaint is just the story a bit too long for a middle grade book, and slow in some places. It would be hard to read for children who doesn't actually like to read, they might get bored with it. It really makes me slow in finishing this. But overall, THE GIRL WHO DRANK THE MOON is one beautiful book about family and hope that is perfect for everyone.