Book Review: Rebel Belle by Rachel Hawkins
10:16 AM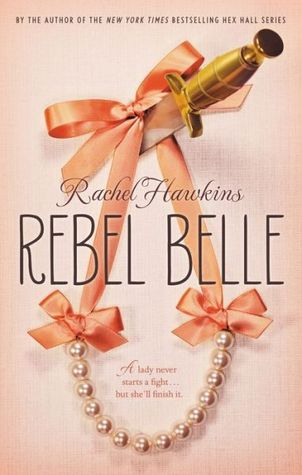 Title: Rebel Belle
Author: Rachel Hawkins
E-book edition, 352 pages
Published: April 8th, 2014
Publisher: Putnam Juvenile
4/5 stars
Summary:
Harper Price, peerless Southern belle, was born ready for a Homecoming tiara. But after a strange run-in at the dance imbues her with incredible abilities, Harper's destiny takes a turn for the seriously weird. She becomes a Paladin, one of an ancient line of guardians with agility, super strength and lethal fighting instincts.

Just when life can't get any more disastrously crazy, Harper finds out who she's charged to protect: David Stark, school reporter, subject of a mysterious prophecy and possibly Harper's least favorite person. But things get complicated when Harper starts falling for him--and discovers that David's own fate could very well be to destroy Earth.

With snappy banter, cotillion dresses, non-stop action and a touch of magic, this new young adult series from bestseller Rachel Hawkins is going to make y'all beg for more.
Review:
I've been putting this book away for Emma, because I didn't think I liked it. But this book took my by surprise. It was soo good. I enjoyed every minute of it. I never read anything by Rachel Hawkins, but this book is a really good start for me. Definitely going to read rest of her books.
The main character, Harper, is really easy to like. Yes, she might seem stupid and shallow at the beginning of the book. But we can see throughout the book that she's more than pretty. She's sweet, caring, over achiever, and of course, she kicks a lot of ass! It took her a while to adjust to her Paladin role, but once she does, she's such a badass! Even before anyone told her what happened, she already did her research about Paladin. The first few chapters gave us the picture of the-seemingly-perfect-life-of-Harper-Jane-Price. But the rest is how she handles the problemsin her life. She struggles to balance her social life, her relationship with her perfect boyfriend, and her duty as a Paladin. Overall, Harper handles all the problems pretty well.
The other characters are also likeable (except Mary Beth). I really like reading banter between David and Harper, those banter are so witty and funny! I just wish the love triangle didn't happen. I just feel bad for Ryan, he's such a supportive boyfriend.
This book is hilarious. It had me laughing several times. Even the action scenes, no matter how badass it is, still has a funny scene. Such a page turner. Definitely going to read Miss Mayhem!