Book Review: To All the Boys I've Loved Before by Jenny Han
11:45 AM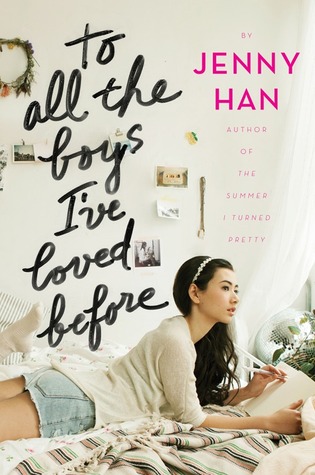 Title: To All the Boys I've Loved Before
Author: Jenny Han
Paperback edition, 368 pages
Publisher: Simon & Schuster
Published: April 22nd, 2014
3/5 stars
Summary:
Lara Jean's love life goes from imaginary to out of control in this heartfelt novel from the New York Times bestselling author of The Summer I Turned Pretty series.

What if all the crushes you ever had found out how you felt about them... all at once?

Lara Jean Song keeps her love letters in a hatbox her mother gave her. They aren't love letters that anyone else wrote for her; these are ones she's written. One for every boy she's ever loved—five in all. When she writes, she pours out her heart and soul and says all the things she would never say in real life, because her letters are for her eyes only. Until the day her secret letters are mailed, and suddenly, Lara Jean's love life goes from imaginary to out of control.
Review:
I've wanted to read The Summer I Turned Pretty for quite a long time, but I haven't got the chance. So when I saw this book, I picked it up instantly.
Lara Jean kept the love letters she wrote for all the boys she ever loved. She wrote the letters as a way to forget them, to let go and move on. She never intends for those boys to read them. So when someone mailed her letter, things get messy.
For the first few chapters, Lara Jean is very childish and naive, that I think her little sister is more mature than her. She's so childish about everything that sometimes I don't believe that she's 16. Then there's her older sister, Margot. I get it that she had to take the mother role ever since their mother's death, but I think she's so bossy and she's a hypocrite that I don't even understand how Lara and Kitty could look up to her.
Then, there is Josh. Everybody loves Josh. Well, not me. He's Lara Jean's sister's boyfriend and ever since Margot's leaving he's been trying to get Lara. Sure, they broke up before she went, but you don't move on to your girlfriend's little sister. Then he recieves her love letter. Things get awkward and he kept asking about the letter which forced Lara Jean to fake a relationship with Peter Kavinsky.
Peter Kavinsky is kind of a jerk at the beginning, but he turns out to be a very sweet guy and easy going. Oh and he also recieved Lara's letter. I love this kind of fake relationship story, where the characters must spend their time together and eventually fell in love with each other.
Peter and Kitty is my favorite characters from this book. I like this book as an easy, light romance reads, but it also very family oriented. And the ending isn't that much of cliffhanger, but still leaves me wondering about who she'll ends up with. I really can't wait to read the sequel! (And I really wish she ends up with Kavinsky)